Start Your Free Case Evaluation
Fill out the form below and an attorney will contact you shortly for your free case consultation.

We Assist Residents In Travis, Williamson, Hays And Other Central Texas Counties.
The Law Office of Richard Gentry is a law firm dedicated to helping people through what is often the most difficult time in their lives. When you're charged with a crime, or even being investigated or questioned by law enforcement, it's never an easy process. It can be embarrassing, intimidating, and even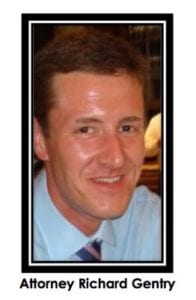 downright scary. Most people have no idea what to say, who to turn to, or how to handle these situations. It's simply not something you learn in school or from your parents. That's why having a lawyer you can trust is so important. You have to be able to trust that your lawyer excels at what he does, will always be honest with you, and will focus on helping you on a personal level, because no two cases are the same, and no two clients have exactly the same issues or priorities.
When I started my practice, more than anything else I was resolved to not make the same mistakes I had seen other lawyers make during my time as a Prosecutor in Travis County. Too often lawyers would approach me about their client's case not really knowing anything about the person who had placed so much trust in their hands. The reality is that in order to fight for your client, you have to know who your client is and what is important to them. That means being available to answer questions, examine the case in detail, and simply talk about the ways in which their lives are being affected by the situation they are in.
We handle cases at all levels of the criminal justice system, from Federal Court, State District and County Courts, all the way down to traffic offenses. No matter how big or small the problem facing you, the goal is that you leave the office feeling better about the situation than when you came in the door, and that at the end of the day, you can get on with your life and leave those troubles in the past. My experience on both sides of the criminal justice aisle provides me with a unique insight and expertise into what it takes to come out on top both in the courtroom and when dealing with the other side.
I am a lifelong Austinite and graduate of The University of Texas and the The University of Texas School of Law. My practice geared towards helping individuals and families across Central Texas navigate the legal process, minimize the effect of the legal system on their daily lives, and come out on the winning side in any legal matter. I believe in doing superior work for a fair fee, and client satisfaction and comfort will always be the top priority. This is why our motto has always been "A Personal Approach with Proven Results." I take your case as seriously as you take the decision to hire a lawyer. Anything less is a waste of time.
Central Texas Criminal Defense Attorney
What Clients Are Saying About The Law Offices Of Richard Gentry
"I would recommend Mr. Gentry as an attorney. Mr. Gentry was able to get the results that I desired in regards to a ticket I received in Austin, Texas. I also had no difficulty in setting up meetings at his office or getting in contact with Mr. Gentry by text, email, or cell phone – which is not a common accommodation you receive from other lawyers."
- Lisa N. | Google Review
[/db_pb_slide]
[/db_pb_slider]
Call Us Today For A
FREE

Case Evaluation